We gathered last evening at the home of my dear friend Margo. It was her birthday this week, plus mine, and the sky was clear of clouds. One of her best friends was visiting from Minnesota. Also, Friday. So why not?
A clutch of us sat at three small tables we put together and we talked. There were gin and tonics, briny olives in a bowl, and flowers from Margo's garden. Desmond was the youngest, at 5, and Margo's parents, in their 80s, were the oldest. We each brought something to eat, so our plates soon were filled with corn salad, eggplants, a potato salad Danny threw together, poblano rice, horseradish sauce, ripe tomatoes, and a flank steak cooked just right. (Also, bread and homemade pie, which I couldn't eat but admired.) The tables did not have any matching silverware, tablescape designs, or anything planned. We sat and laughed and listened to each other's stories.
Nothing much happened. It was wonderful.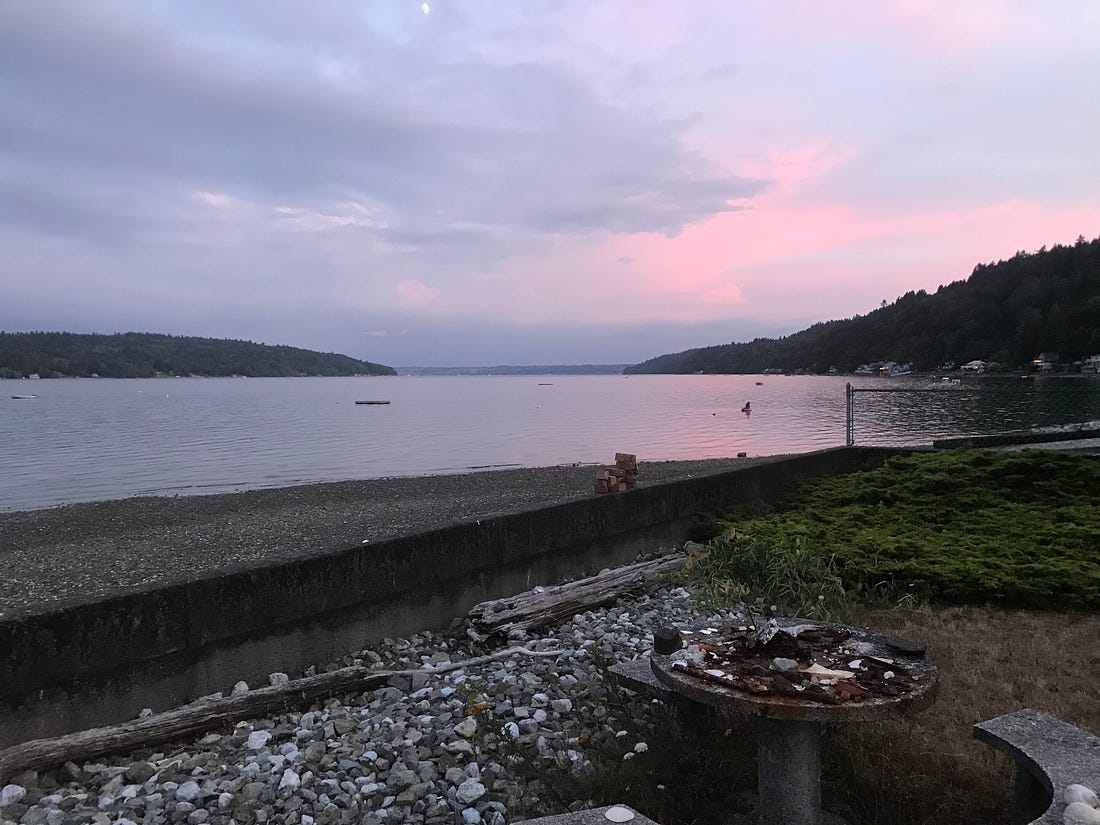 After dinner, Lucy slipped up to me at the table and asked if she could go out in one of Margo's kayaks. I turned to look at her and said, "Have you ever been out in a kayak by yourself?"
Assured, she said, "Yes, at one of Uncle Andy's beach gatherings, remember? Someone brought a kayak and I went out in it for 10 minutes. Can I go?"
I was trained to be afraid. My early life was entirely circumscribed by the way we were required to pay attention to the fears of anything that could go wrong. It took me decades to let go of that training, most of it unconscious, that says to stay back, hesitate, and wait. But when our girl was born, and she stopped breathing 12 hours later, then we endured the ICU and the uncertainty of what was causing her to stop breathing, and then the craniosynostosis diagnosis, and the surgery when she was 9 months old during which they took her skull off her head and built her a bigger one to give her brain room to grow? I determined in those moments to never live in fear again. We could have wrapped her in a little velvet box we cushioned in our cupped hands to make sure nothing bad ever happened again. Or we could let her go free, since we don't have much control over anything.
"Go ask Margo for a life jacket. Show me it's on right. And then go."
I didn't even tell her to stay close to the shore. She would know what to do.
I didn't even watch as she walked, life jacket on, to the water's edge. Margo carried the kayak down there, showed Lucy how to use the paddle a few times, and then walked away. Lucy slipped the boat into the blue water.
After a couple of moments, I came up from a conversation to see other people's faces, looking out at the bay. I turned around and saw Lucy halfway across the water, her strokes slow and sure. She was the only one out there — we had checked for motor boats or anything that could be an impediment — except for the sleek heads of seals occasionally. And she moved, as she always does, with surety and joy.
This girl. She lives more fully in her body than anyone I have ever met. She understands the world through moving in it. Once she was free to go, I know it never occurred to her to be afraid out there. Instead, she felt the air on her face, felt the work in her arms, and felt the freedom of being on the water on a summer evening, by herself.
Everyone on the shore watched her for a few moments, amazed. Some didn't stop watching. I turned back to my conversation. This was her moment. Not mine.
She stayed out there until the sun went down, the gloaming light turning blue and faintly pink on the water. Eventually, we called her in, so she would be on land before nightfall. Lucy landed on the shore, grinning and dancing as soon as she left the kayak behind her. (Danny carried it up to the beach wall, then I took it from his hands to drag it back to its place.) Lucy ran to me for a hug, clearly proud of herself. And then she chased her brother around the grass, laughing. The moment had passed. On to the next play.
I will never forget this.
There is no security in the world. We are all going to leave it. The least we can do is live fully while we are here, instead of cowering in fear.
Fingerling potato salad with roasted cauliflower, broccoli, and lemon-tahini-serrano dressing
These summer evenings are too evanescent to plan much for dinner. Yesterday we found some local fingerlings at our favorite farm stand in town, plus purple cauliflower and broccoli. Danny boiled the fingerlings in salted water — make sure that water tastes like the ocean if you want the potatoes seasoned well — until he could slip a knife into them gently without any hesitation or tugging. He roasted the broccoli and cauliflower with olive oil and salt at 450° until they were soft and starting to caramelize. He let them all cool. And then he chopped them up, tossed them together, and added diced green olives. A squeeze of the lemon-tahini-serrano dressing I made the other day, a quick stir, and it was time to go to the party. (This morning I added more dressing, to coat the potatoes thoroughly.)
It was good. So was the rest of the food. And now it's gone.